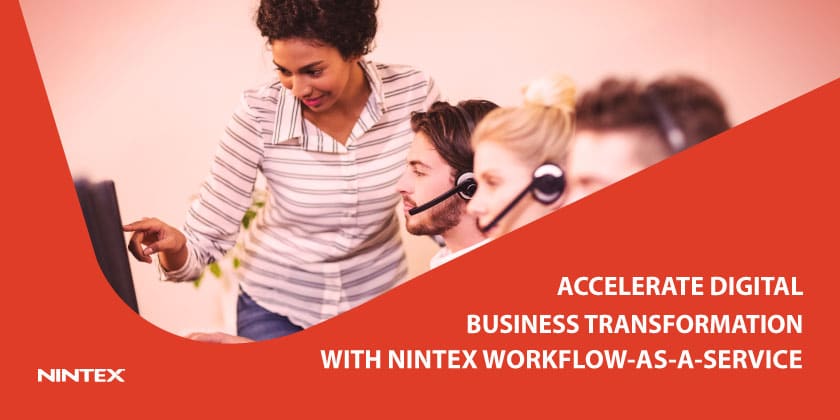 10 Jul

Accelerate Digital Business Transformation with Nintex Workflow-as-a-Service
 Ian Hameroff, July 10, 2017
Digital transformation is a popular topic today—although the concept isn't new.
The workplace has been undergoing transformation for decades, as each major wave of new technology ushers in an era of opportunity to fundamentally change widely applied means and methods.
Even digital transformation itself has witnessed several waves in a relatively short period. Cloud, mobility, IoT, and advancements in machine learning, natural language interaction, etc., have established an environment for the creation of new, truly exciting customer and employee experiences.
Navigate the Ocean of Digital Transformation
However, moving beyond simple "buzz word" adoption to evolving your organization into a digital business requires an approach that scales beyond a single, epic project or relies solely on IT—no matter how sophisticated the business scenario.
More to the point, the industry analyst firm Forrester Research remarked that, for many organizations, "hundreds, if not thousands, of manual processes stand in the way of digital transformation."
It should then come as no surprise that knowing where to get started can feel like an enormous task.
For more than a decade Nintex has been providing workflow automation technology that makes it easy for businesses to transform their work.
As the recognized global leader in workflow and content automation, Nintex has partnered with thousands of customers to catalyze many of these recent waves of digital transformation within their own businesses. In this time, we've also learned that while every organization has acquired, implemented, and now relies on a growing number of different business applications, our experience has allowed us to develop a model that can greatly simplify the transformation process.
It's all about connecting the people whose decisions your business relies on, with the processes that your business runs on to the systems of record and content your business has been built on.
The digital business transformation that is possible at the intersection of these three critical parts of your organizational DNA is Workflow and Content Automation.
Workflow and Content Automation
As Jim Lundy of Aragon Research describes it, Workflow and Content Automation (WCA) "represents the consolidation of traditional workflow and content generation into a new category to support the needs of a Digital Business." Among the many benefits of WCA, the biggest is its ability to be the platform for your digital business transformation.
We couldn't agree more with this point of view, as Nintex has spent more than decade continuously innovating our Nintex Workflow Platform to accelerate this process.